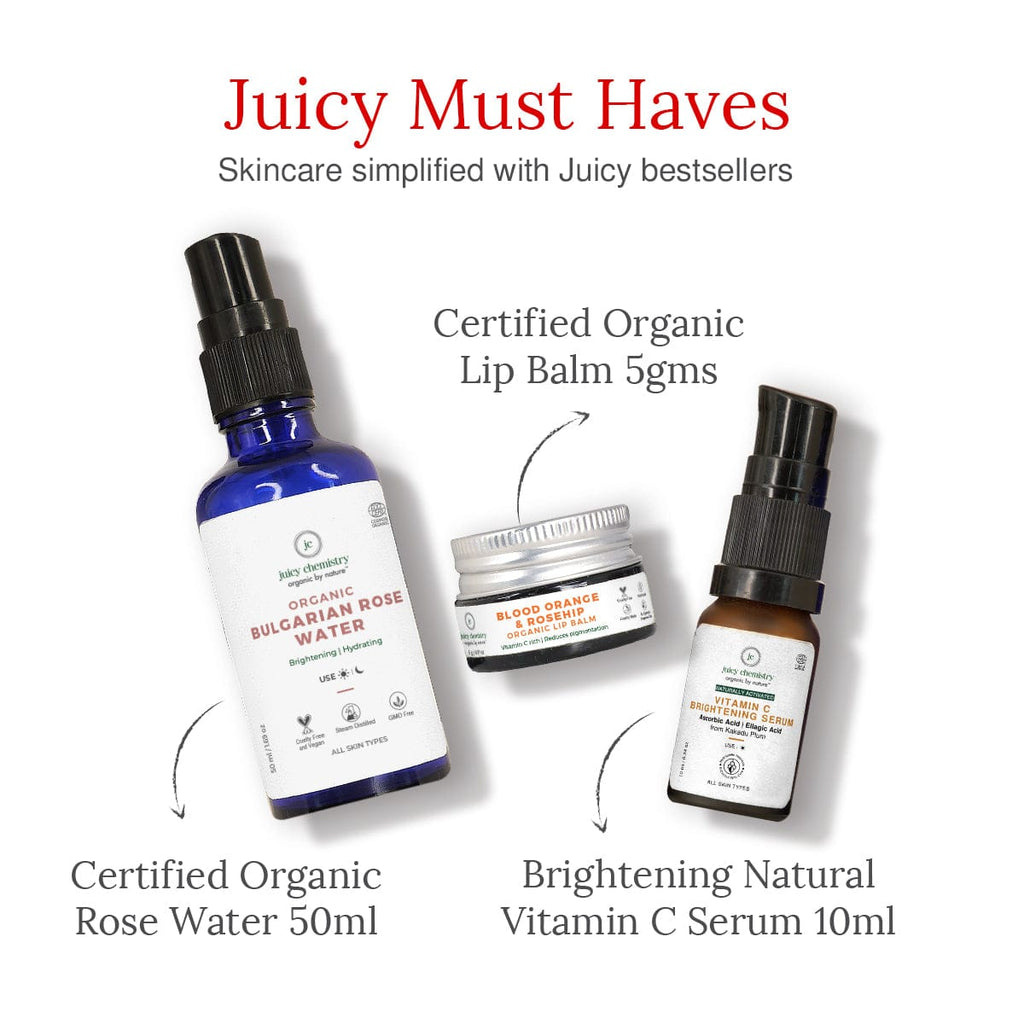 40% OFF
Juicy Must Haves
Skincare simplified with Juicy Bestsellers
Worldwide
Shipping Available
Country of Origin:
India
Free shipping on
all orders worth
Rs. 999/- or above
Vitamin C Brightening Serum

Kakadu Plum is one of the world's highest sources of Vitamin C. This naturally activated skin brightening serum protects the skin against photo damage, inhibits tyrosinase and boosts collagen synthesis. It is rich in Ascorbic Acid and antioxidants like Gallic and Ellagic Acids that help reduce dark spots, blemishes and brighten the skin.
Blood Orange and Rosehip Lip Balm
This moisturising and organic lip balm intensely nourishes the skin. Its vitamin C-rich oils help reverse pigmentation to reveal softer and smoother lips.
Bulgarian Rose Water (Hydrosol)
This nourishing 100% organic rose water toner actively brightens, soothes and evens out skin tone while maintaining an optimal pH balance.
This combo contains:
1 x Naturally Activated Vitamin C Brightening Serum - 30 ml

1 x Blood Orange and Rosehip Lip Balm - 5 g
1 x 100% Organic Bulgarian Rose Water -50ML

Offers
UP TO 40% off Sitewide *T&C Apply
Buy any 3 Juicy MINIs @ Rs. 549/- and 5 @ Rs. 849/-
UP TO 40% off Sitewide *T&C Apply
Buy any 3 Juicy MINIs @ Rs. 549/- and 5 @ Rs. 849/-
Buy 1 Get 1 Free on Magnesium Range | Code: MGBOGO
show less offers