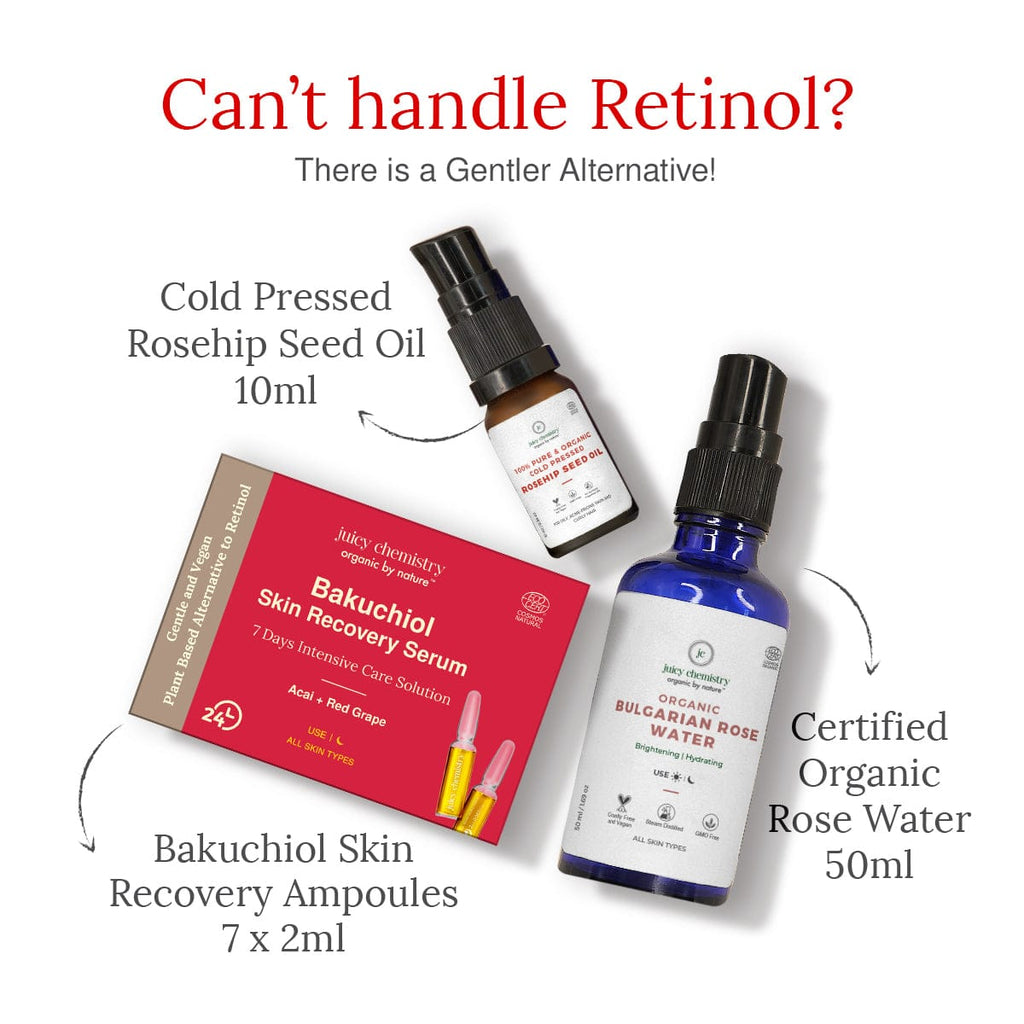 40% OFF
Hydration Boost Trio
Can't handle Retinol? Try this!
Worldwide
Shipping Available
Country of Origin:
India
Free shipping on
all orders worth
Rs. 999/- or above
 Cold-Pressed Rosehip Seed Carrier Oil
This 100% pure and organic cold-pressed Rosehip Oil for acne and scars is extracted from the seeds of rose bushes. It is rich in fatty acids, provitamin A and vitamin C.
Bulgarian Rose Water (Hydrosol)
This nourishing 100% organic rose water toner actively brightens, soothes and evens out skin tone while maintaining an optimal pH balance.
Bakuchiol Skin Recovery Face Serum
This intensive care serum kit gets you 7 days closer to healthy and youthful skin. It helps target signs of ageing like fine lines, age spots, and pigmentation to reveal more even-toned skin. This skin recovery serum comes with Bakuchiol, a potent yet gentle plant ingredient, works through the same receptors in our skin as Retinol. It deeply penetrates the skin to stimulate collagen repair and cell turnover. It helps refine pores and promote skin firmness. Ginkgo Biloba helps restore elasticity and improves skin's sebaceous glands activity. Loaded with protective antioxidants, Acai and Red Grape extracts revive dull, damaged, and mature skin. Being a humectant, Hyaluronic acid prevents moisture loss and improves skin's elasticity.
This combo contains:

1 x 100% Organic Rosehip Seed Cold Pressed Carrier Oil - 10ml

1 x 100% Organic Bulgarian Rose Water - 50 ml
1 x Bakuchiol Skin Recovery Serum - 7 x 2 ml

Offers
UP TO 40% off Sitewide *T&C Apply
Buy any 3 Juicy MINIs @ Rs. 549/- and 5 @ Rs. 849/-
UP TO 40% off Sitewide *T&C Apply
Buy any 3 Juicy MINIs @ Rs. 549/- and 5 @ Rs. 849/-
Buy 1 Get 1 Free on Magnesium Range | Code: MGBOGO
show less offers