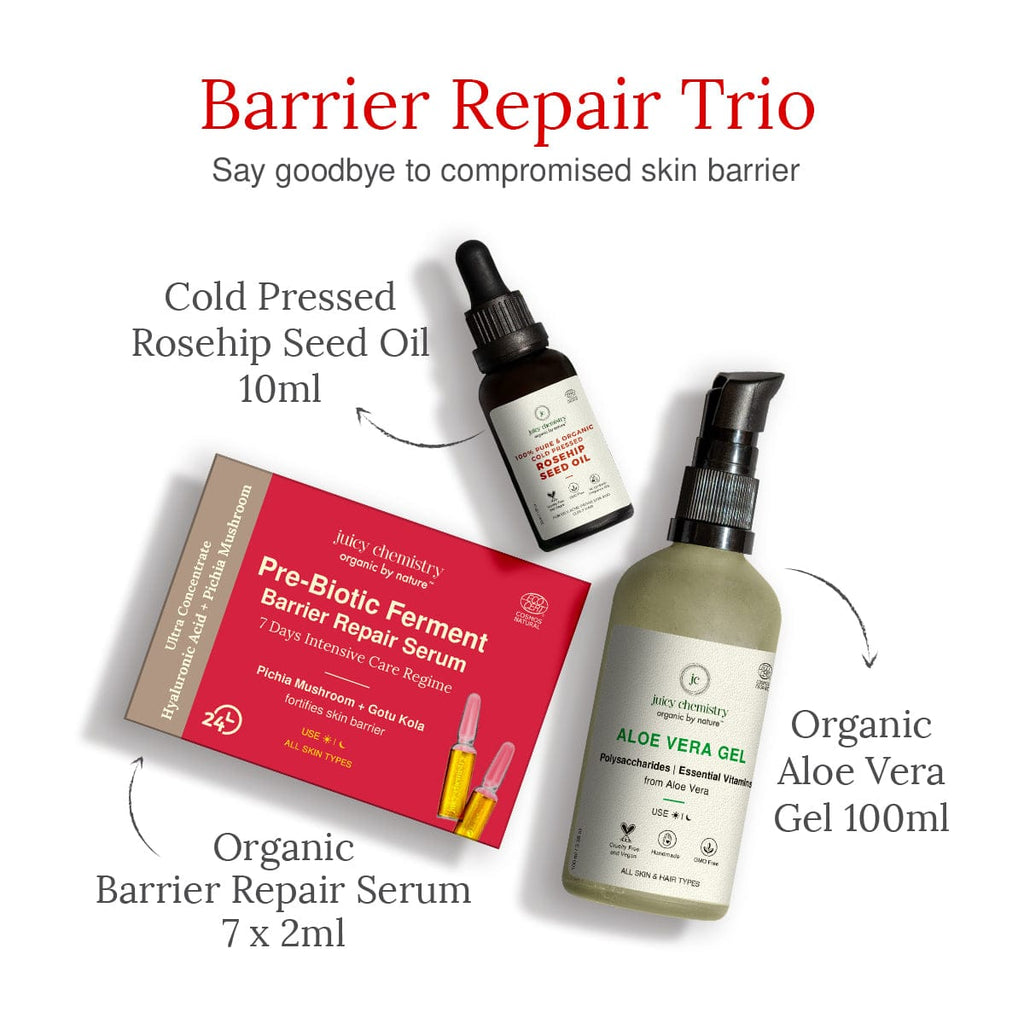 40% OFF
Barrier Repair Trio
Say goodbye to compromised skin barrier
Worldwide
Shipping Available
Country of Origin:
India
Free shipping on
all orders worth
Rs. 999/- or above
 Cold Pressed Rosehip Seed Carrier Oil
This 100% pure and organic cold-pressed Rosehip Oil for acne and scars is extracted from the seeds of rose bushes. It is rich in fatty acids, provitamin A and vitamin C.
Certified Organic Aloe Vera Gel
This multi-purpose aloe vera gel is made with 100% pure aloe vera juice. Enriched with polysaccharides, it deeply hydrates the skin and helps revitalise dry hair. Its soothing properties help repair sun-damaged skin and calm itchy scalp.
 Pre-Biotic Barrier Repair Serum
This intensive solutions kit gets you 7 days closer to a healthier and strengthened skin surface. This barrier repair serum comes with Pichia Mushroom's prebiotic ferment supports a healthy microbiome and promotes skin regeneration. The bright-red resin called Dragon's Blood forms a protective barrier to shield skin against environmental stressors. Along with Gotu Kola, it helps repair the skin's barrier and supports collagen renewal. Lapsana improves radical resistance, and Brahmi soothes irritated skin. Being a humectant, Hyaluronic acid prevents moisture loss and improves skin's elasticity.
This combo contains:
1 x 100% Organic Rosehip Seed Cold Pressed Carrier Oil - 10ml

1 x Certified Organic Aloe Vera Gel - 100 ml
1 x Pre-Biotic Ferment Barrier Repair Serum - 7 x 2 ml

Offers
UP TO 40% off Sitewide *T&C Apply
Buy any 3 Juicy MINIs @ Rs. 549/- and 5 @ Rs. 849/-
UP TO 40% off Sitewide *T&C Apply
Buy any 3 Juicy MINIs @ Rs. 549/- and 5 @ Rs. 849/-
Buy 1 Get 1 Free on Magnesium Range | Code: MGBOGO
show less offers